Capturing the precious life of a baby
My Photography
My photography style continues to change each year as I get older. Newborns are perfect the way they are with the minimal use of props on a neutral color palette but I also love the use of timeless props and florals to add a bit of a vintage look.
My time in the fashion industry taught me one thing. It's that we are each given a uniqueness to ourselves. Embracing that uniqueness allows others to want to embrace and celebrate that along with us. My art is about capturing what is unique, not about erasing it.
Every baby has their own traits, whether it's a physical trait or a unique personality. Some newborns will sleep plenty in their early weeks, others will be wide-eyed curious. Let's capture how your baby is and allow that beautiful memory to be remembered across our generations.
Session Info
Chieu Lee
Chieu Lee is a published professional photographer with over 15 years of experience across fashion and family portraiture. She specializes in maternity (pregnancy), newborn, baby and family photography. Her newborn photography studio is located in the Northern Virginia (NOVA) area located in Chantilly (Fairfax County). Her portrait style embraces the natural emotions and wraps them with natural light and soft textures.
About Me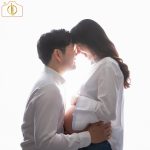 Focus
Her photography focuses on the precious early life of a baby, from pregnancy to birth and into their youth.
Props
Her studio provides hundreds of accessories including headbands, textured cloths, baby wraps, baskets, and props.
Family
Her packages provide options to pose the baby by themselves or with their parents and siblings.
Location
Her home studio is designed to provide a warm and comfortable space for her newborns and their sleep deprived parents.
"She handled our baby so lovingly yet professionally that she was able to calm her down and deliver us beautiful pictures."
My Portfolio
My photography is comprised of two distinct styles – posed studio sessions and on-location lifestyle sessions.
Posed studio sessions leverage props and accessories that beautifully embellish the memory of your child at their newborn stage.